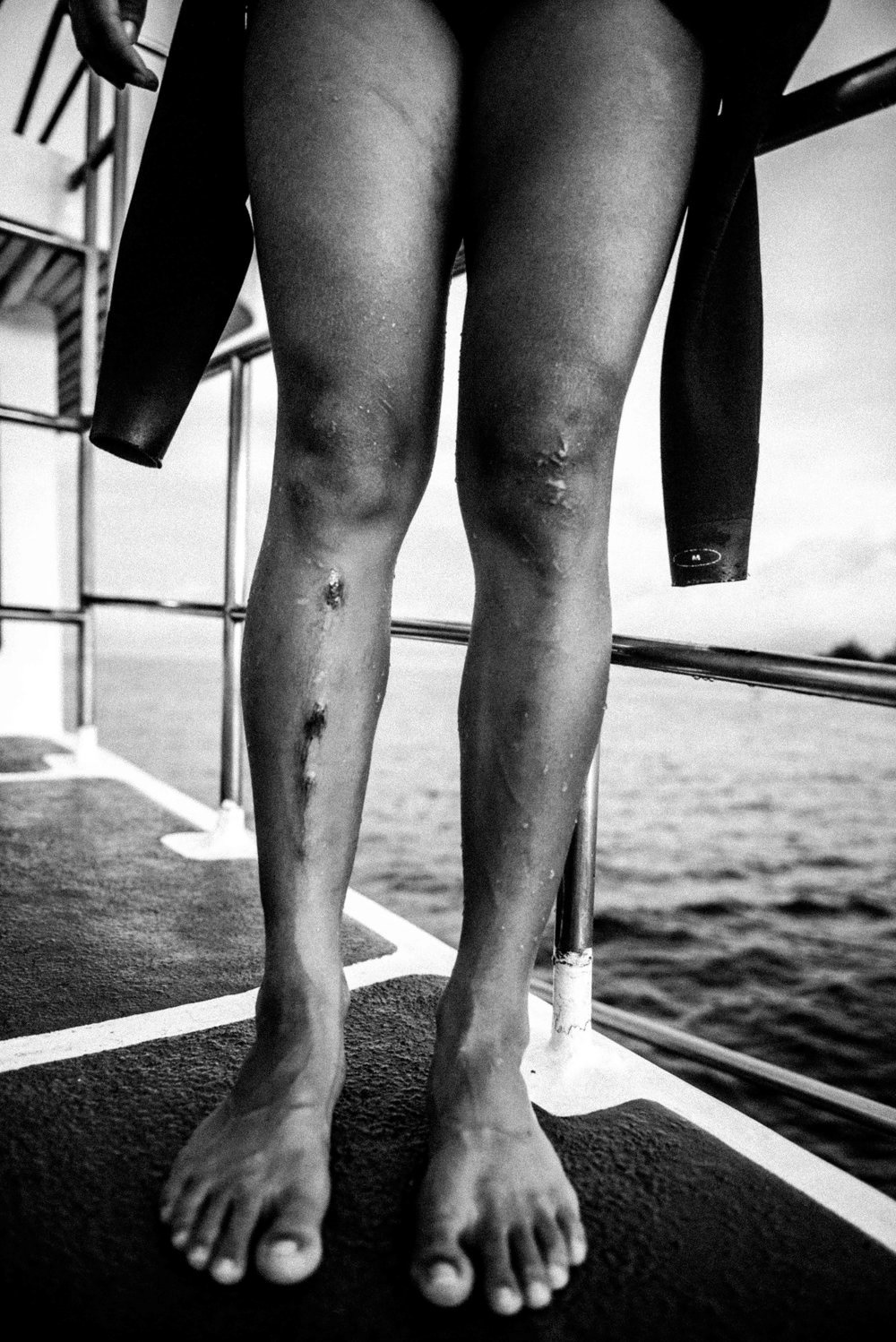 We caught up with one of our favorite big-wave surfers on the north shore of Oahu this winter. Raquel Heckert is making big moves in the the female surf world, getting 4th place at the Puerto Escondido Cup and being nominated for the WSL "Women's Best Performance of 2018." Raquel has been traveling the world catching big waves in Bali, Sumatra, California, Hawaii, Mexico and Brazil. In and out of the water her positive energy is contagious and inspiring for all around her. Read on to find out about how this legend got started in surfing and her favorite breaks to surf.
Can you tell us where you're from: I'm from Niterói in the state of Rio de Janeiro.
How did your love for surfing begin: So I started surfing at Itaipu beach where there aren't many waves. The waves just work with the tide. It's like a lagoon that connects with the ocean which then shapes the waves for us. I started surfing because I was always a very curious kid, so I wanted to do everything. I always had a lot of questions for my Dad. One day my Dad and I were watching the waves breaking and saw a couple of surfers surfing. I was like "wow, how do they do this- how can their feet be attached to the board, how can they do all the turns synchronized with the wave." So I had a moment that I had so much curiosity and I couldn't control myself and I started asking my Dad questions to try to understand how it worked. I asked my Dad for a board as a gift. In Brazil there is one day, October 12th that is the childrens day. Kids get presents and gifts, so I asked my Dad for a board. He gave me a very old one that he found on a website for super cheap, with fins, wax and a case. It was so funny because we went to fix the board because it was kind of broken and this guy told me about the surf school. I went for the surf lesson and I never stopped surfing after that. So since I was 12 or 13, I have been surfing and I'm always trying to get better and overcome my limits. Thinking about how I do that drop, how I can surf like other people. It's the curiosity that makes me overcome my limits more and more everyday.
What are your favorite waves around the world to surf: I love surfing Waimea. It's a wave that we share with other people but it's a super fun big wave to ride. I love Padang Padang in Asia. I love the wave Nias too, in Sumatra. There are so many good waves. I love barrels so I love Puerto Escondido too. My favorite rides were at Puerto Escondido, Mexico where I could get barrels. I like the challenge of Jaws too.
Favorite breaks on Oahu: I would say that my favorite break on Oahu for big waves is Waimea and the second one is Himalayas. For barrels Pipe, for small waves Sandbars. I love Sandbars because it reminds me of Brazil.
What are your goals for this winter season: I think my goal for this season is to get my body strong and my knee at 100 percent. I want to get a better wave at Jaws. I want to explore other waves. I want to surf Himalayas on a bigger day. I always want to be the best that I can be every season, every time. So get more waves at Pipe. Charge harder, overcome limits. Be a better surfer and a better person every day too. I want to show God's love to people. Inspire them to do their best, to follow a good path, help others, show love and help each other too.
What are some challenges you've faced as a surfer: It's very challenging to surf big waves, travel to get better and represent females surfing on big waves, risking my life and doing all these things with not many sponsors or support from the brands in my country. It's pretty challenging to risk myself and go forward with not much equipment. So it's pretty hard, but I try to do my best and God has been in my life to help my way. You need a lot of sports sponsors and as a female surfer it's hard because sometimes the brands forget about the girls. They don't care too much if you surf big waves or if you do something that not many girls do. They are more worried about how pretty you look. For men in surfing, brands want you because you charge, not so much because of how you look. For females, this is still hard. You've always got to build and prove and show people that you're a girl surfing big waves, you're out there, you'e surfing big waves. You're out at a big day at Pipe. You're a girl and you're going to get waves. People always judge you before they even see you, before they even know who you are. That's because you're a woman. So we've got to do our job the best that we can. I've overcome just by focusing on what I've got to do, facing my fears, charging and thinking about what I've got to do and do my best. I look for sponsors too and show what I do and I know that some sponsors are going to come. Everyone has their own story and everything happens for a reason and I know that God provides everything and he teaches me a lot. It's all part of the ride. So if it's too easy, it's not that exciting.
Advice for others trying to follow your path in surfing: So what I would say to other people is, you've got to play the game with what you have. If you have money just for the ticket and to get to the place and work- you've got to do whatever it takes. Don't think too much about everything and have faith that things are going to work out. Whatever you dream of, you've just got to work hard and focus your energy on that. Trust that God will help you to achieve those dreams. So if you put God first in your heart and work really hard and face your fears, you can achieve whatever you want. Spend a lot of time in the water if you want to become a big wave surfer. It's always good to ride waves even if it's bad or windy. It's always good to be practicing and getting to know the ocean more. Eat well. I don't drink, I don't smoke anything, I try to eat healthy. Ofcourse sometimes I eat sweet things that I shouldn't, but it's good to have fun too. But it's always good to take care of yourself and your goals.
Photographs by Megan Costello